AL-HUDA
Foundation, NJ U. S. A
the Message Continues ... i/65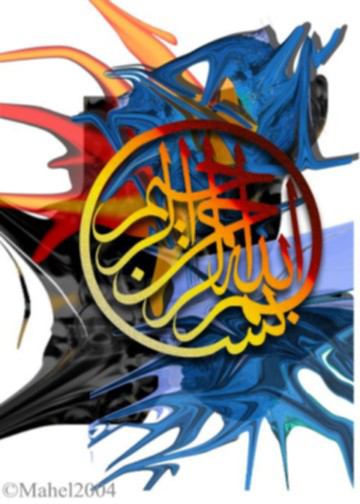 Article 1..... The Holy Quran Sura 78. THE TIDINGS (A. Yusuf Ali) THE ANNOUNCEMENT More.....

Article 2..... The Last Will of Imam Ali ibn Abi Talib (a)

Imam Ali's (AS) last will to his sons Imam Hasan (AS) and Imam Hussain (AS) after the attack on him by Ibn Muljam, a Kharjite. More.....
Article 3..... Imam Hussain (a)'s Concept of Religion and Leadership by S.H.M Jafri

ONLY now and again does there arise above the common level some rare spirit, who, having looked upon God face to face, reflects more clearly the divine purpose, and puts into practice more courageously the divine guidances. The light of such a man shines like a strong beacon on a dark and disordered world. Our concepts of human values, human dignity and human freedom are better understood today because there has come into its life, among others, a personality that is a flame of God. His suffering embodies the pride of mankind, and in his sacrifice is reflected the eternal patience of man's greatness. An intrepid spirit, an impregnable will-power, and a superhuman passion for truth and justice are his main characteristics. And that man is Husayn b. 'Ali, the grandson of the Prophet of Islam. He presents to us the purest, the most elevating and the most inspiring ideal known to man. He is the one who taught man that death is not worse than a dishonorable life. He showed the world the real meaning of religion and the function of the leaders of mankind. More.....
Article 4..... Prophet Isa (Jesus)

(excerpt from the late Dr. Syed Haider Hussain Shamsi's English translation of his father, Syed Muhammad Hussain Shamsi's book: "The Prophets of Islam"). More.....
Article 5..... Crescent & Cross "Islam versus Christianity" A Reply to The Pope! by Nashid

The media has done a lot to demonize Islam and create hatred between Christians and Muslims. When you consider that the purpose of religion should be to bring peace, when war and hatred replace love in the name of religion, it should really make the thinking mind wonder.

More.....
Article 6..... Annual pilgrimage Muslims make annual pilgrimage by Iftekhar Hai

ON Dec. 30, more than 1.3 billion Muslims and their supporters from around the world will descend on Mecca.

They will travel through Saudi Arabia by roads, by sea and by air to the Kaaba, the holiest place in Islam. They will fulfill the fifth Pillar of Islam known as the Hajj, or the annual pilgrimage, from Dec. 26 and ending on Dec. 31.
Article 7..... Muslim Women on the March! Profiles of Excellence in Merit and Achievement!

Afghanistan ...... Masouda Jalal born January 5, 1962 was the only woman candidate in the Afghan presidential election of 2004. She is from Kabul and has a background as a pediatrician, teacher at Kabul University, and a UN World Food Program worker. Born in Gul Bahar in Kapisa Province, one of seven children, Jalal moved to Kabul to attend high school. More.....
Article 8..... Transformative Encounters "The Meeting of Mevlana Rumi and ShamsiTabriz"

One cold November morning, the wanderings of this mysterious being [Shamsi Tabriz] who walked in a field of magnetism brought him to the front of the Shekerjiler Hani (Inn of the Sugar Merchants), in Konya just as Mevlana Jalalu'ddin Rumi was passing. Mevlana sat majestically on his horse as his students scrambled to walk beside him and hold the stirrup. He had just completed his class at the College of Cotton Merchants and with a throng of students was passing the Inn of the Sugar Merchants. More.....
Article 9..... BIOGRAPHY OF Allama Muhammad IQBAL

Allama Iqbal was an heir to a very rich literary, mystic, philosophical and religious tradition. He imbibed and assimilated all that was best in the past and present Islamic and Oriental thought and culture. His range of interests covered Religion, Philosophy, Art, Politics, Economics, the revival of Muslim life and universal brotherhood of man. His prose, not only in his national language but also in English, was powerful. His two books in English demonstrate his mastery of English. But poetry was his medium par excellence of expression. Everything he thought and felt, almost involuntarily shaped itself into verse.
Article 10..... Urumqi & Turpan: A Visit to the Chinese Muslim cities

"Its on the ground, its in the air, its all around, its everywhere" sang the rather dodgy techno/ rap singer as we drove from the airport to the hotel. I had finally arrived. Landing at Urumqi I knew I had stepped into a new world, least of which was at the courtesy of the air hostess in Beijing who made an announcement which I'm certain was purely for my benefit as I was the only other person on board who it seems spoke English "Please check your ticket to confirm you are on the correct flight"!!! More.....
Article 11..... Honoring Differences "an excellent Rosh Hashanah sermon"
September 23, 2006 Morning of Rosh Hashanah By: Rabbi Samuel M. Stahl

Once again, I am most grateful to Rabbi Block for inviting me to occupy the pulpit and to deliver the sermon on this morning of Rosh Hashanah. As many of you are well aware, preparing sermons for the High Holy Days is a formidable, anxiety-producing task for rabbis. Hours are spent in formulating the thoughts and crafting the words which will be delivered to the largest crowds of congregants that assemble during the year. Yet, we rabbis often wonder about the actual effectiveness of our sermonic efforts. More.....
Article 12..... Some Common Misconceptions about Shi'ism
by Shahid Athar M.D.

The centuries-old Shia-Sunni differences are the major obstacle to Muslim unity. These differences have always been fanned by the enemies of Islam to their benefit. Unfortunately, some so-called Muslim scholars on their payroll have also played a key role in keeping these differences alive.

More.....
HOME - NEWSLETTERS - BOOKS - ARTICLES - CONTACT - FEEDBACK - UP
Article 1 - Article 2 - Article 3 - Article 4 - Article 5 - Article 6 - Article 7 - Article 8 - Article 9 - Article 10 - Article 11 - Article 12
DISCLAIMER:
All material published by Al-Huda.com / And the Message Continues is the sole responsibility of its author's).
The opinions and/or assertions contained therein do not necessarily reflect the editorial views of this site,
nor of Al-Huda and its officers.
Copyright © 2001 CompanyLongName , NJ USA